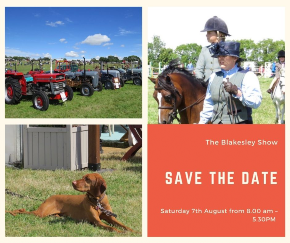 Blakesley Show- Save the date
July 28, 2021
Towcester Equine Vets are delighted to be returning to the Blakesley show on 7th August 2021 with our usual stand, in our usual spot, overlooking the main arena.  We'd like to extend a warm welcome to clients old and new to come onto our stand for a chat and some refreshments.
SAVE THE DATE

 Towcester Vets at the Blakesley Show.

Blakesley Heath Farm

7th August – 8.00am to 5.30pm
Within our main stand we're planning to have vets and nurses from our Equine department.  The show opens at 8.00 and closes at 5.30 so please do make some time during your visit to pop over and say hello.
We'll release details nearer the time of exactly what's going on, on our stand.  Meanwhile, as well as the delights of the Towcester Vets stand, the 3-4,000 visitors that are expected will be able to enjoy around 70 equestrian classes and a gymkhana as well as cattle and sheep classes (including an increasingly popular Young Shepherd section).  Finally, the main ring entertainment will be led by the Stunt Mania Motorcycle Stunt Team.
We look forward to seeing you on the day.