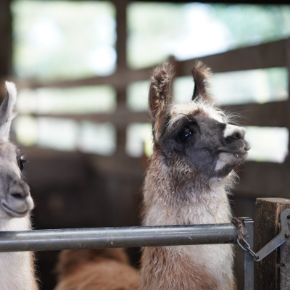 Failure of Passive Transfer (FPT) in camelids
June 21, 2021
Crias are born with no antibodies, making them extremely susceptible to infection. Young camelids get important antibodies from the colostrum of their dam so ensuring they get their first drink is really important.
If your cria is standing within the first 30-60 minutes and nursing within 2-4 hours, then they should consume 10-20% of their body weight in the first 24 hours of life (equating to 700-1400ml for a 7kg cria)
Crias can fail to absorb antibodies for a variety of reasons but certain situations put them at higher risk. If any of the situations on the list below apply, then we recommend checking your new arrival for failure to absorb enough antibodies, called Failure of Passive Transfer (FPT).
Low birth weight (<6KG in alpacas and <7kg in llamas )
Evidence of prematurity (curled ears, unerupted incisors, socks on feet)
Difficult birthing or caesarean
Congenital defects (e.g. cleft palate)
Maternal issues (first time mum, no bond between mum and baby, no milk, mastitis)
Crias should be weighed daily during the first few weeks of life and crias that aren't thriving or aren't putting on weight should also be assessed.
Crias with FPT are at risk of life threatening infections so it's important we check early enough that we can correct the problem before this happens. We recommend checking when the cria is around 24-48 hrs old. The check is a quick and easy blood test that can be performed at the surgery. Crias who are shown not to have enough antibodies can then receive a plasma transfusion to boost antibody levels before infections can set in. If your herd does not currently have any plasma available then do let us know and register your interest for our next Blood Drive Day.