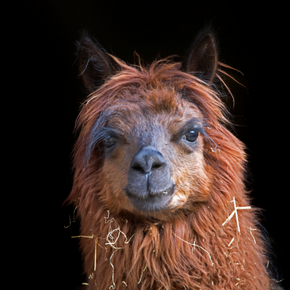 Using eye colour scoring to assess for anaemia in alpacas
September 14, 2021
A complementary check to regular body condition scoring your alpacas is to check the mucous membrane colour of the animals. This is important because alpacas are quite susceptible to being infected with haemonchus eggs (otherwise known as the Barber's Pole Worm).
Haemonchus is a gastrointestinal parasite that attaches itself to and then sucks blood from the stomach lining which can make the alpaca anaemic. This can happen over time or in some cases can come on quite quickly.
It's worth knowing that haemonchus is one parasite that can cause disease very rapidly and therefore can be missed by routine faecal worm egg testing. Unfortunately, cases can actually be fatal. This means that regular checks of the mucous membrane behind the lower eyelid are an essential part of the ongoing healthcare regime you should follow for your herd.
How to colour check an alpaca's eye
To check the eye, get an assistant to hold the head firmly. Place one hand over the top of the head placing you thumb on the top eyelid and applying gentle pressure. Cup your other had under the mandible with you thumb on the bottom eyelid and pull down gently. This should reveal the membrane that sits at the bottom of the eye, below the lower lid.
When you reveal this membrane, it should show a nice reddish/pink mucosa. If the mucosa is pale or worst of all white, then that is an indication that the animal is anaemic. At that point you should call us immediately so we can take blood, get your animal tested and figure out what's going on.
As with body condition scoring, if you'd like a bit of training in how to make these checks yourself or if you'd like us to come and check your animals for you then please contact us and we'll send one of the team out to see you.
If you'd like to see a video on how to check the eyes of your alpaca, then this excellent video by Camelid Veterinary Services offers a step by step methodology.
The video and image sourced from Camelid Veterinary Services.