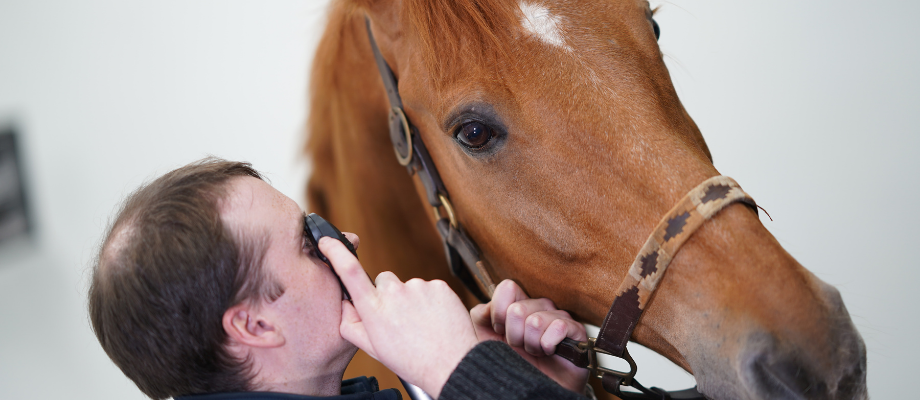 Pre-Purchase Horse Vetting
You can trust in Towcester Equine Vets to provide a reputable, thorough and informative pre-purchase vet exam service when buying your next horse or pony.
Towcester's Equine Vets are based in Onley and Paulerspury. Our vettings service covers Northamptonshire, Buckinghamshire, Bedfordshire, Warwickshire, Oxfordshire and Leicestershire. We will happily perform vettings for our current clients, as well as non-registered clients.
Buying a new horse
Buying a new horse or pony can be an exciting, yet daunting experience. There is a lot to consider:
Is the horse fit and healthy?
Do they have any underlying issues that could affect their wellbeing or performance?
Are they suited to their intended new purpose with you?
Is the seller providing you with all of the required paperwork and information?
Our pre-purchase horse vetting service consists of a thorough assessment of the animal, which follows RCVS guidelines. After which, we can provide the best practical advice as to whether the horse is fit for purchase and suitable for your specific needs.
Why choose Towcester Equine Vets to assist your next purchase:
Whether you are a first-time horse buyer or a professional rider, Towcester's experienced equine vets can help you to make an informed decision and reduce potential risks associated with purchasing a horse.
Your purchasing requirements will be taken into account, and the necessary examinations and checks carried out in a timely and thorough manner. We will provide our findings as quickly as possible to help facilitate your purchase or otherwise. Time required for PPE reports are determined by the extent of the evaluation carried out and can be discussed further at the time of booking. Radiographs extend the time required to provide a report, since these are always evaluated by an external veterinary consultant.
Pre-Purchase Horse Vetting
We provide both 2-stage and 5-stage pre-purchase horse vettings.
The 5 stages are: (a 2-stage incorporates stage 1 & 2 only)
Stage 1 – Preliminary examination
Stage 2 – Trot up
Stage 3 – Strenuous exercise phase
Stage 4 – Rest period
Stage 5 – Second trot up and final examination
We are able to carry out additional procedures as part of the PPE as requested, including x-ray, ultrasound or endoscopy.
Alternatively, please contact one of our Equine practices to discuss your requirements with one of our experienced Equine Vets – contact us.
Facilities required for pre-purchase horse exam:
Dark stable for eye examination
Smooth, hard trot up (not a road) – approximately 30 metres
School or flat field to ride/lunge in
Gravel surface for small lunge circle on a hard surface
Somebody to trot up, lunge and ride horse (if this is not available please book a nurse)
Ensure passport is present and horse is stabled 2 hours prior to vetting  
Mileage – This is based on a round trip in addition to the vetting cost
Equine services
Once you have made your purchase, Towcester Equine Vets can provide you with a comprehensive range of equine veterinary services – learn more