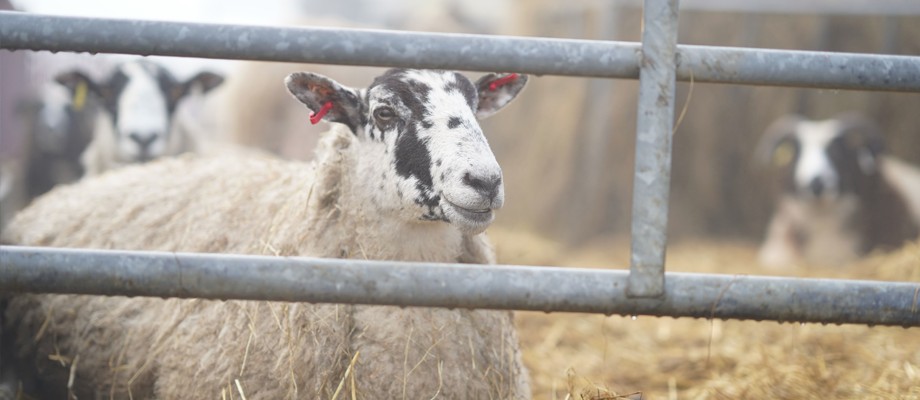 Sheep
Our aim is to help farmers achieve the highest possible welfare standards in their flock, at the same time maximising returns where applicable. Please find below services available to our sheep farmer clients. Feel free to call us on 01327 811007 to discuss your individual needs.
Fertility
Ram Fertility Testing
Ensuring ram health and vitality is key in breeding preparation and maintaining flock profitability. True infertility is rare but up to 30% of rams can be sub-fertile which can affect barren rates and prolong the lambing season. We recommend checking your ram in advance of the tupping season to ensure that he is fit and can preform the job required. If you discover issues affecting fertility this allows enough time to improve performance or find a replacement ram before it affects your tupping season.
Ram Vasectomies
The primary reason for using a vasectomised ram, or teaser ram, is to increase conception rates of ewes within a tighter tupping period. This delivers benefits during the lambing season including ewe nutrition management, housing and labour organisation.
Lambing Club
Our ever popular annual lambing club is a scheme available for all clients to join, irrespective of breeding flock size. For a single payment at the start of the season, you will receive unlimited access to discounts on lambings and caesareans with our experienced team.
Lambings
We are a farm specific veterinary team who are happy to assist our clients with lambings (routine or difficult) and caesareans no matter what time of day or night. Lambings and prolapses can be brought in to our Burcote Road surgery and our staff are well accustomed to all manner of ewe transport! Our farm vets are well equipped and can respond to the majority of scenarios on the road, all that we ask is for a bucket of warm water and straw for the lamb to be delivered on to.
During office hours, we aim to have a farm vet free throughout the day to be able to respond to any emergencies. Throughout the night and over weekends, Towcester Farm Vets cover their own out of hours emergencies strengthening our client and farm relations.
Disease Investigation
Post Mortems
The farm team recommends that any unexplained deaths on-farm are reported/discussed with us to reduce the liklehood of pathogen or disease maifestation. Often a post mortem examination may be recommended in order to help prevent any further losses to your flock which our team can perform either on-farm or at the Burcote road surgery.
Skinny Sheep
There are five key sheep diseases which have an impact on the flock profitability, however less than 5% of farmers screen for these infections routinely.
Border disease (BD), or commonly referred to as hairy shaker lambs, is a viral infection, which is similar to BVD disease in cattle. Infected farms can see BD effects through abortions as well as hairy shaker lambs. Transmission occurs through infectious secretions from dam to offspring or in semen from infected rams. Infection on farm is typically through nose to nose contact with infected animals, which can include bought in animals of an unknown status.
Caseous lymphadenitis (CLA) is caused by a bacterium Corynebacterium pseudotuberculosis. Bacteria infect the local lymph nodes, usually those in the head, although abscesses do not always develop externally and can be within the inner lymph nodes. Antibody testing off blood can indicate exposure, active infection or cleared infection. Infection is spread via bacteria entering through cuts and abrasions in skin or airborne transmission.
Maedi Visna (MV) is a viral infection causing lesions within the lungs. Infections are highly infectious and can take months or years to progress from infection to clinical symptoms develop. Infection is untreatable and affected sheep will remain carriers for life, allowing infection to be transmitted through semen, saliva, urine and in-utero.
Ovine Johne's Disease (OJD) is caused by Mycobacterium avium spp. Paratuberculosis bacteria. This bacterium sits in the small intestines causing chronic inflammation which means nutrients are poorly absorbed reducing metabolic efficacy. These all link to a reduced fertility rate and low body condition score in affected individuals. Infection is transmitted via the faecal-oral route with most lambs becoming infected before six months of age. Unlike in cattle, sheep with Johnes do not usually have diarrhoea.
Ovine pulmonary adenocarcinoma (OPA) or Jaagsiekte is a lung tumour caused by a viral tumour. The virus is similar to MV but distinct enough to cause a separate disease process. Tumours in the lungs cause symptoms of pneumonia, loss of condition and can see a build-up of fluid within the body cavities. Transmission occurs when oral discharges, milk and colostrum are infected from the virus. Incubation (subclinical) phase of this disease can range from six months to three years.
Testing is available on blood and faeces for each disease and our vets will be able to discuss with you, which disease and test is most suitable for each disease.
Flock Health Planning
Flock Contract
Towcester Farm Vets understand that routine costs of veterinary support can fluctuate throughout the year creating highs and lows in invoicing patterns. Our Flock Contract is a way to streamline these costs through a monthly payment plan, covering essentials and helping to achieve a productive and profitable flock
Health Planning including Red Tractor
Understanding your flock and ensuring you have protocols in place for animal welfare management can help to improve your farm health and welfare. Our vets offer appointments to help develop an appropriate health plan with you, which can be printed into a formalised printed document for your records and ours alike.
Accreditation Schemes
Accreditation schemes are available across a number of infectious diseases allowing you to buy and sell with confidence or as a method of encouraging disease surveillance.
Contact our team to discuss these schemes and how to get enrolled.
Preventative Healthcare
Within the UK there are several different species of worm that can infect sheep. Different species have different abilities to cause disease in sheep (pathogenicity) and the levels of worms in sheep are also affected by the body condition score, nutrition status and age. As lambs get older the immune system develops and becomes more immune to the worm burden, which reduces the worm egg count in faeces.
The main internal parasites are:
Strongyles (including Trichostronglyes, Nematodirus and Haemonchus)
Coccidia
Fluke
Lungworm
Tapeworm
Faecal Worm Egg Counts are used as a way to measure the number of eggs being produced by internal gut parasites. Results are given as a value of eggs per gram of faeces (epg) which can help our vets to create a tailored worming programme for you. Worming protocols in flocks can be difficult to tailor but further information can be found on the SCOPS website.
Lameness
If you have sheep on farm you have probably experienced a lame sheep at some stage. Costing the industry £28million a year, lameness can create serious welfare implications. Treating lameness in UK flocks is estimated to account for over half of all on-farm sheep antibiotic consumption.
Most infectious lameness cases are linked to a bacterial agent. The most common infections are due to scald, footrot or Contagious Ovine Digital Dermatitis (CODD). Scald and Footrot are caused by the same bacteria, Dichelobacter nodosus; while CODD is caused by the Treponeme bacteria species. It is also possible for a mixed infection to develop with both bacterial species being present, creating a challenge for treatment and for case control. The best way to tackle a flock with lameness is to use the industry initiative Five Point Plan. Contact our team to discuss this further.