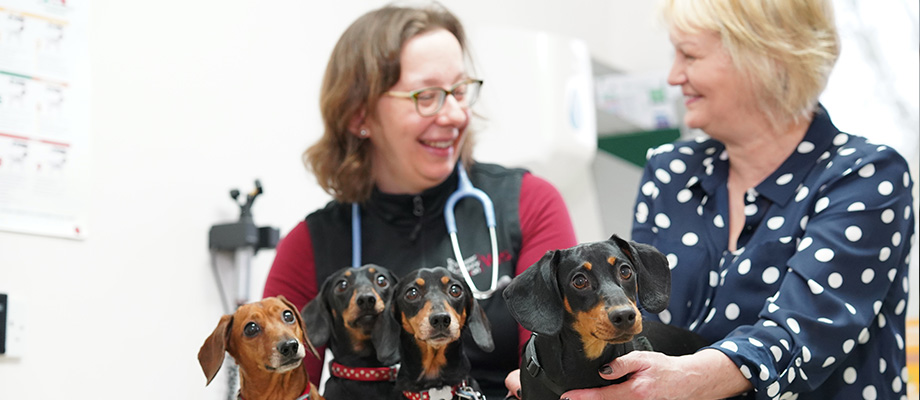 Consultations
Visiting the vet can be a stressful time for owners and pets alike. During your visit our team will be on hand to help as much as they possibly can. Our vets, nurses and reception team want you to experience the best customer journey possible and will take extra steps to help achieve this. We take pride in the fact each clinic is RCVS accredited and we want our clients to feel confident that our team will provide gold standard care for their pets.
Below are some handy tips about each step of the visit, ensuring that owners are fully aware of what to expect on arrival.
The booking process
We aim to make this as smooth as possible. Our clients have a choice of which clinic they would like their pet to be seen at, depending on location and case continuity. All consults and appointments can be booked with our reception team who will be happy to provide you with the available slots. Our reception team are highly trained to deal with all types of request including bookings, prescriptions, account queries and also able to give some advice. These bookings can be made over the phone, by visiting our reception and also emailing: admin@towcester-vets.co.uk
The waiting room
A lot of clients are anxious about waiting for their appointment as their pet becomes stressed. Each clinic has separate waiting areas so, depending on whether you are visiting with a canine companion or a feline/small furry patient, all customers can be comfortable. Our team are happy if you would prefer to wait in the car if you arrive early for your appointment – they will be happy to collect you when the vet is free. Our Burcote Road and Weedon practices have both won awards for their cat friendly status and our team can always advise owners of a quieter time for bookings to reduce the stress being placed on your pet. We can provide access to blankets sprayed with Feliway to place over their cat's cage which helps to keep their animal calm and also muffle the sound of any other patients in attendance.
The consultation
Each practice has at least one purpose-built consult room. These have been designed with enough space for your pet to be examined either on the rubber coated table or on the floor (depending on where they are more comfortable). Allowing pets to be seen privately away from the waiting room can be advantageous and will also reduce stress levels for the pet. We realise that not every trip to the vet is going to be a happy one and having a private space during these times can make all the difference.
If the vet requires assistance during the appointment, they can call on a member of the nursing team to assist and the client has the choice to either wait in the waiting room or to be present.
During the consultation the vet will ask for a thorough history of your pet including questions on their diet, exercise regime and also what symptoms they've been experiencing. They will then follow this with a physical examination depending on what the problem is. If your pet needs further work outside of the consultation the vet will be able to discuss the available options with you during your appointment.
Leaving our clinic
Following your consult, we ask that you visit the reception desk to settle the account or to instruct the reception team that you wish to proceed with an insurance claim. If you need to book in any further work or collect medication, this can be done at reception.